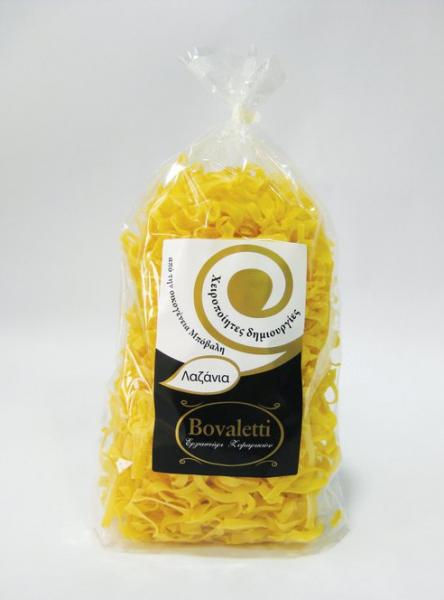 Lasagne 500gr
Product Description:
Lasagne ingedients:
Strong wheat semolina, eggs and milk

Bovaletti pasta are manufactured by top quality 100% strong wheat semolina, fresh eggs and goats milk. All ingedients are carefully chosen by producers with a long tradition in their field.

Recommended recipe:

Lasagne Carbonara (recipe that serve 4)

-500 gr. lasagne Bovaletti
-200 gr. sour cream
-150 gr. Parmesan cheese
-100 gr. butter
-1 onion
-3 bacon slices
- salt and pepper

We chop and cook the bacon slices in a small pot with some butter until it turns reddish brown and we add the sliced onion. After a while we add the sour cream, the rest of the butter and the Parmesan cheese. When the sauce starts boiling we also add the lasagne. Stit it until it's well mixed.

Bon Appetite!!!